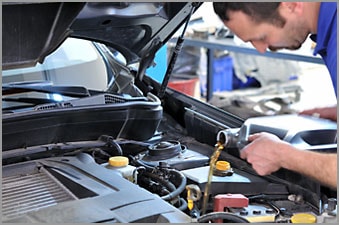 One of the most important things you can do to maintain your Chevrolet and prolong its life is to get regular oil changes. It's also a good rule of thumb to take it to a dealership. While it may be slightly more expensive, no one knows your Chevy better than a certified Chevrolet mechanic from Donohoo Chevrolet. And besides, you want someone you can trust to work on your vehicle. It just adds another level of peace of mind.
Mechanics at a dealership are specifically trained on the ins and outs of Chevrolets, so your car will often get looked at deeper if you take it to an auto dealer's service department. Opting for a dealer to change your oil is also recommended if you have an older Chevrolet because certified Chevy technicians will best know how to work with it.
Our friends in Chattanooga, Huntsville, Fort Payne, and Scottsboro don't have to purchase their vehicle from our dealership to take advantage of our quick lube oil and filter services. We offer recommended transmission oil changes to any current and new customer in the Fort Payne, AL area.
We are open from 8 a.m. to 5 p.m. on Friday and 8 a.m. to 1 p.m. on Saturday. Come see us whenever it's convenient for you, or call us at 866-509-9299 to make an appointment. You can also schedule one online as well.
Besides oil changes, we offer our neighbors in the Fort Payne area brake services, tire rotations,  general inspections, fluid top-offs and more.